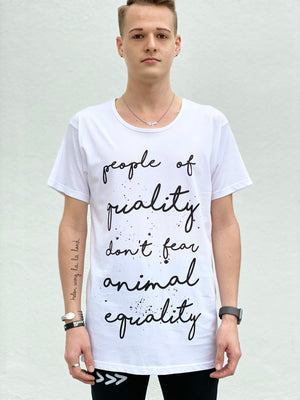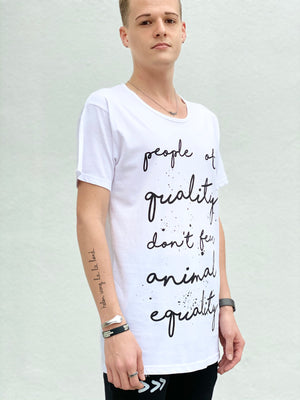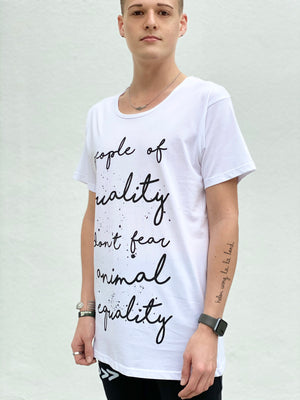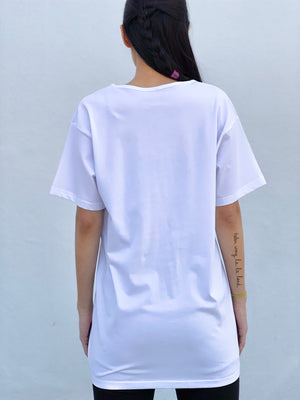 (S/S 2020) People Of Quality tee *wider neck fit*
NICE n SOFT☁️☁️

People of quality don't fear animal equality.
Wtf does PEOPLE OF QUALITY even mean? Tbh, I'm not sure. But I know what it DOESN'T mean - SPECIESISM, sexism, racism, ableism, classism, xenophobia, homophobia, transphobia or any outdated beliefs. 
Models:
Graham (1st model) is 5'11" 32 waist wearing a size M.
Richard is 5'11" 40-33-37 wearing a size M
Miss Cheah is 5'7" 34-26-34 wearing a size M

White
Regular-Relaxed fit
Scoop neck (wider neck), longer body
Light weight, 4.4 oz/yd2, 34-singles
100% combed cotton
Self-fabric binding on neck, side seamed, double needle hems, preshrunk to minimize shrinkage
made in hand-picked factories with safe, fair, legal and humane working conditions