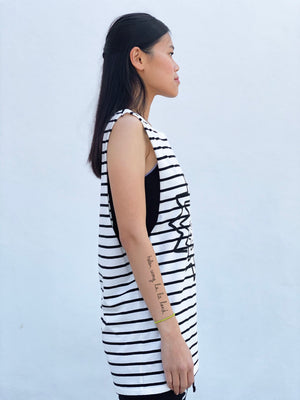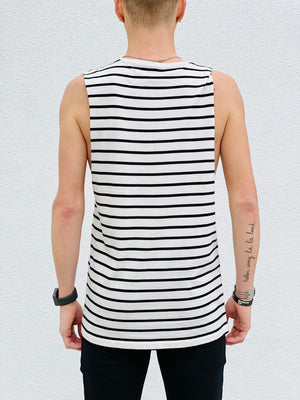 (S/S 2020) Empty All The Cages sleeveless tee in CREAM/BLACK STRIPE
NICE n SOFT☁️☁️
Color: CREAM/BLACK STRIPE
Even the color CREAM is dairy free HAHAHA 🥦

Rats are empathetic and intelligent animals.
Animal Testing is UNETHICAL, unreliable with an over 95% failure rate in human application. If any other industries have the same failure rate, they would be shut down immediately. There are more accurate and reliable methods to test than using animals. This cruel industry is wasting our tax dollars.
Models:
Miss Cheah is 5'7" 34-26-34 wearing a size M.
Richard is 5'11" 40-33-37 wearing a size M.
Regular fit
Sleeveless tee, raw armhole edges, varied stripe width across colours
Light weight, 4.4 oz/yd2, 34-singles
100% combed cotton 
Neck ribbing, double needle bottom hem, preshrunk to minimize shrinkage
made in hand-picked factories with safe, fair, legal and humane working conditions