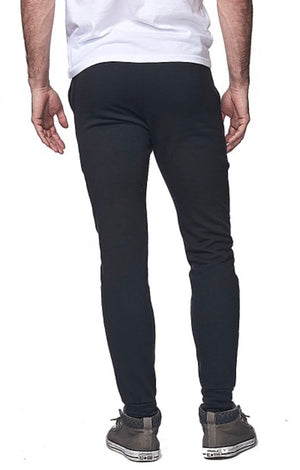 (S/S 2020) French Terry Unisex Joggers in BLACK ORGANIC RPET
** EMBROIDERY (Be On The Right Side of History)
plus water-based INK print (>>>)
RPET stands for recycled polyethylene terephthalate, it's basically recycled plastic bottles.

SUPER SOFT☁️☁️☁️☁️
UNISEX ORGANIC RPET FRENCH TERRY JOGGER PANTS
Women weren't allowed to vote; homosexuality was listed as a mental disorder; racial segregation was legal; but people learn, society grows, just because it's legal now doesn't make it right - we know in our heart that Animal Exploitation is wrong. Humanity is healthier, the planet is cleaner when we learn how to coexist with fellow sentient beings. Be on the right side of history.
Models:
Manufacturer's model (1st model) is 6 feet, 30 inch waist wearing a size M.
Miss Cheah is 5'7" 34-26-34 wearing a size XS.
Brenden (in the last pic) is 5'11" 32.5-32-38 wearing a size XS for a tight fit, fabric is soft & stretchy.

FABRIC: 50% Combed Ring Spun Organic Cotton 50% RPET Recycled Polyester 7.2 oz/sq yd
ITEM DETAILS:
Side Pocket
Set on Rib Cuffs
Waistband with Elastic & Drawcord
Satin label

FEATURES: Soft and extremely comfortable while eco friendly and trendy fabric (made from post consumer plastic bottles). It will be your favorite pant.
Joggers' Finished Measurements

If you need additional reference, this is the General Unisex Pant Sizing from the manufacturer.